Unseasonal Rains of 2023: Misery of Farmers and Locals
"Are we going to end up in unrest this year too like the last year due to extreme weather events?" asked Muhammad Ali, a farmer from the small village of Qadirpur Ran in district Multan. Muhammad Ali was mentioning last year's rains of May 2022, which ended up destroying his crops and land, leaving him devastated.
Muhammad Ali is not the sole victim of the extreme rains and flood which laid waste to millions of acres of Pakistan's farmland, killing 1700 people, displacing 7.9 million individuals and causing widespread damage. "If this happens again, then I will be under 3 lakh debt." Muhammad Ali added, "Just the thought of that disaster happening again this year gives me chills". He further stated, "I can't say anything for sure, but unexpected rains in the last month have scared me. All of the wheat that was just near harvesting is in ruins now." He was flabbergasted and shocked because he had never expected this kind of intense rain.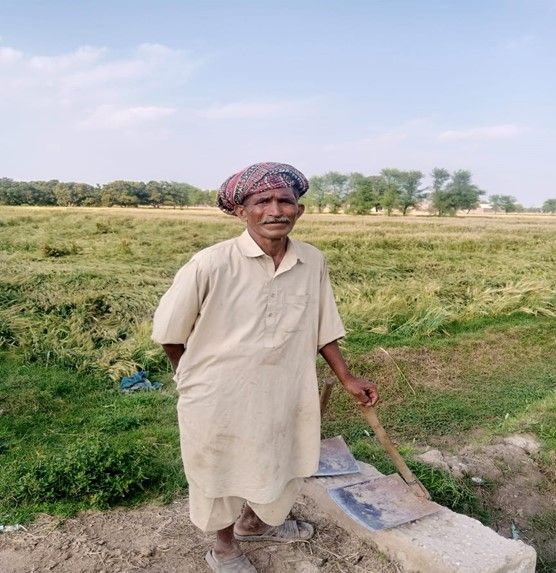 Unseasonal Rains of 2023: Misery of Farmers and Locals
After the floods of 2022, the extreme rainfall in March 2023 is a matter of concern for climate experts and the meteorological department. The reasons behind these unseasonal rains in the second half of the month are not just frequent western disturbances that have induced cyclonic circulation over India and Pakistan, but rather are the effects of climate change which are making the situation worse. Experts say that climate change will likely increase intense rainfall that can further lead to flooding in Pakistan.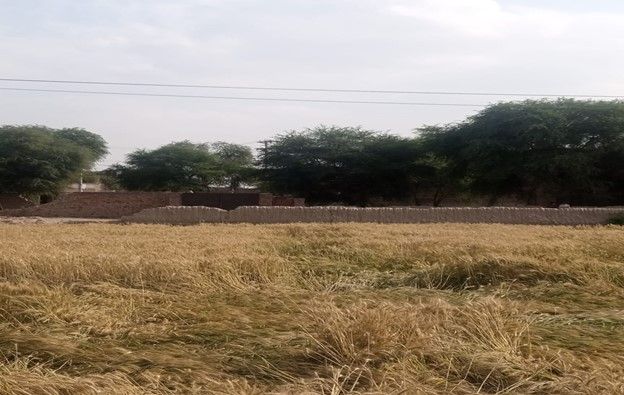 | Near being harvested crops of wheat in ruins after intense rainfall in Qadirpur Ran's village District Multan|
In March 2023, large parts of the country experienced intense rainfall and some areas even experienced hailstorms. The start of pre-monsoon activities in the second half of March has made scientists concerned. According to them increasing temperatures as early as February have led to the formation of the local weather system before time. This weather has caused significant damage to major crops in Pakistan such as wheat, which has resulted in economic loss for farmers and food shortage in communities.
The pre-monsoon spell is dangerous especially during this time of the year as not only is wheat almost ready to be harvested, but also many summer fruits are carrying flowers. Most importantly, mango plants which are carrying their pennicles. From conducting research in the Southern region of Punjab in Multan district, it turned out that intense rainfall in March has caused significant damage to fruit plants. Climate change has been affecting and reducing mango production for the last few years.
Mansoor Gillani, a farmer from the Qadirpur Ran city in the southern region, has a similar story to tell us. He said, "My mango crops have failed twice in the last three years. In March 2022, an unseasonal and intense rain of hail made the boor (mango flowers) fall off the trees inside my mango farm. While during the spring season in 2022, a sudden heatwave not only burned, but also stunted the growth of wheat and sugarcane crops. Now at the start of this year, these unexpected rains and hailstorms have led to the mango boor almost falling off once again. Mango farmers are not expecting a good yield from their fields, as they are anticipating heat waves in the upcoming months. Due to these circumstances, many farmers are giving up on their farms and trying to find other means of income."
Farmers across the provinces of Punjab and Sindh, the two regions responsible for most of the agriculture in Pakistan, are concerned. Earlier this year, there was a rise in temperatures and it is already summer in most parts of the country. Erratic rainfall patterns both temporarily and spatially are forcing a change in crop patterns. This year, rains came unexpectedly and crashed the hopes of farmers who were already struggling from the losses incurred in the previous seasons.
In the dozens of interviews conducted during my fieldwork in villages of district Multan, many farmers and locals have shared their accounts of climate change, variability, and its effects on their incomes, lifestyle, and livelihood. It was also evident that climate change and its consequences are not gender-neutral. The men working in the fields are struggling to make ends meet, but the women in their houses are suffering more.
I met Rukhsana, a 23-year-old housemaid, who agreed to share her story but did not want to be photographed. She belongs to a middle-class family but is currently working as a housekeeper in several homes in the town of Qadirpur. Before this year, she had never worked as her father owned 5 acres of a falsa orchard. However, the intense rains and hailstorms this March destroyed the orchard, compelling her to find a source of income.
"My father was happy that this year his plants were loaded with falsa pennicles which were going to give him a good profit, but after the rain trees are empty and all flowers fell off," said Rukhsana. Unfortunately, instead of making any profit, her father is now in debt. The pesticide spray and other essential sprays, for which he took a loan of 2 lakh Pakistani rupees, have all washed away with the rainwater. Due to this economic loss, she has no choice but to work in other people's homes just to feed her siblings. According to her, "It's hard for me to do this kind of job but I have no option left. By the time I reach home I feel so exhausted and tired, that I just want to sleep but I have a ton of chores waiting for me at home too. I know these times are hard and everyone is struggling." Mr. Rab Nawaz, Rukhsana's father, has now given up on his farm and said, "Everyone around me has advised me to start over but I don't want to invest money in this orchard again. Already, 3 lakh rupees have gone to waste. Putting money and efforts into this field again is a risk because no one knows the upcoming weather."
Rab Nawaz is now getting older and his financial losses have adversely affected his health. According to Rukhsana, her father now has blood pressure issues, struggles with anxiety, and sometimes losses his temper. Rab Nawaz is not the only one who has been struggling with this. Interviewing locals of remote areas, it seems many are frustrated and exhausted. One of them said, "Every year this happens. A lot of rain comes and destroys our crops. This happens again and again, destroying everything we have, but no one is doing anything. "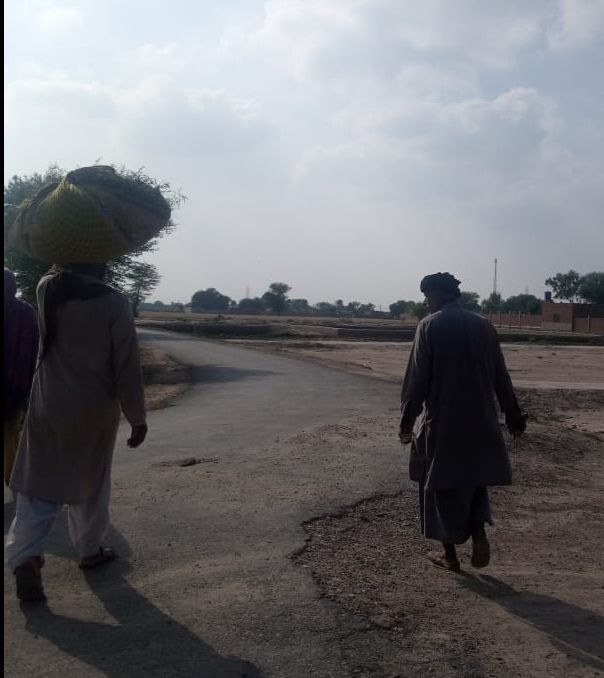 | Villagers of Qadirpur heading back to their homes early from their farms as they are anticipating another heavy rainfal|
The locals are right. Millions are facing atrocities of climate change but some responsibility lies on the government and administration to provide farmers with sufficient guidance. According to farmers, the weather has become very unpredictable, as forecasts are either inaccurate or nonexistent. There is no telling what might happen next month, next week or even the next day. Farmers, most of them small and medium landholders, are demanding help and guidance from the government regarding climate change. While the government is spending millions of rupees on subsidies for farmers, it would also be beneficial to extend funds for awareness sessions on climate change for farmers and on projects that deal with tackling its harmful effects. As one farmer summed up this hopeless situation, "All of the villagers are sad and depressed. Markets are empty, as no one has any money to spend and there are almost no weddings this spring. After a series of frightful back-to-back crop failures, we are all praying for an uneventful season ahead.''
---
Report by Aiman Tahir Hashmi
Aiman Tahir Hashmi is a student at the University of Punjab, Lahore. She was trained on citizen journalism and climate change awareness under SSDO's two-year project: "Youth for Civic Action and Reporting on Climate Change through Citizen Journalism in Pakistan", funded by the Commonwealth Foundation.